Penguin Express with Ultimate Adventure Tour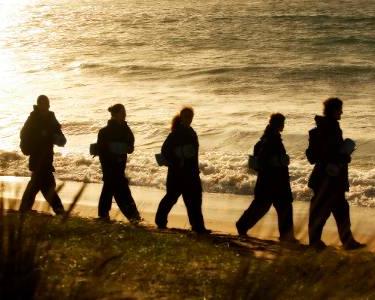 Book Now
Departure times:
January 3.30pm
February March 3.00pm
April 2.00pm
May June July August 1.30pm
September 2.00pm
October November December 3.00pm
Late December 3.30pm
Return time: Approximately 8 hours after departure. Less in winter, more in summer.

This is the ultimate penguin experience for serious nature lovers who want to see the penguins in a more natural setting away from the main Penguin Parade. Enjoy a two hour scenic drive to Phillip Island, with commentary and a halfway break. Take in the spectacular Bass Strait coastal views while on a short walk at The Nobbies (time dependent). Look for wild swamp wallabies, penguin burrows, sea birds and birds of prey while on a drive around Summerland Peninsula.
At the Penguin Parade you will have some limited free time for the cafe and information centre before you meet a different group of people and your own wildlife ranger for a Penguin Parade-conducted tour. After an informative briefing your ranger will take you to your very own private beach away from the main Penguin Parade, an area that's normally closed to the public. That's one group of no more than ten people, a wildlife ranger and your own beach and penguins! But you might see less penguins than other options and you do need the night-vision equipment provided as the beach has no lighting.
Tour groups are limited to 10 people 16 years and above and adult prices apply to all ages (Penguin Parade policy). Medium fitness level is required.
Due to extremely limited availability for the Ultimate Adventure Tour your booking will not be confirmed immediately, but it will be confirmed within 24 hours when we have you booked with the Penguin Parade. Your credit card will not be charged until your booking is confirmed.
Pickup/departure instructions:
All tours depart from one central Melbourne location, The Rendezvous Hotel 328 Flinders Street near Elizabeth Street. At the end of the day we will take you home to any city centre accommodation. If your accommodation is outside the city centre/downtown area please ensure you have suitable transport available for when we return, approximately 8 hours after departure.
Included in price:
Express tour to the Penguin Parade. Ranger guided tour. Waterproof jackets and pants, night-vision equipment, headsets for listening to your ranger, a hot drink. Meals and drinks are available for purchase but time is very limited. You can bring your own food and drinks but these will need to be consumed before your penguin tour starts.
What to bring:
Bring or wear warm waterproof comfortable clothing and closed shoes in any season. Bring a camera, although no photography of the penguins is permitted.

Cash payments on the bus are not available for this this tour.